Full report from WSX members from the Jan Kjellstrom 2022 orienteering festival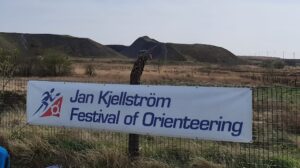 The last day of the previous JK was at Minley in April 2019. So we were all we super excited about our trip west to Swansea to relive the excitement of the JK festival. The sun shone all weekend, we had a very sociable time, the terrain was tricky and challenging, and the excitement of the competition, the commentary and the locations made for one of the best JKs that I have been to.
Julie takes the story up the previous week in Poundbury, leading up to her return to her alma mater some years on…
JK Day One@ Swansea University
Julie says:
"From Poundbury to Swansea University: Two urban events in 7 days – the first around the Prince of Wales' creation just outside Dorchester (a UK Urban League event) and the second a JK Sprint event around my old university campus at Swansea.
Poundbury is quite a visionary creation – but one you either love or hate, I think. I have only ever orienteered around it so haven't really formed a strong opinion yet. I do love the mixture of architecture but there doesn't appear to be much 'heart' to it. I could be wrong.
 The orienteering was fast and furious with a few tricky areas to negotiate. Due to the way the blocks of buildings were created, there are next to no dead ends – there's always an alley way or canopy through to the other side. Going to my first control, puffing up a slight hill, I noticed a small road on the right called Shuffling Furlong – what a great name, and was a perfect adjective for my running style! A nice downhill run to the Finish across the open field was welcome – as was the tea and cake I had afterwards sitting outside the pavilion where the event was based. Now I must go back and have a good walk around Poundbury to see what it is really like!
Onto Swansea University 6 days later….
I was particularly keen to do the sprint event as this was where I went to university over 50 years ago. Anyone who knows me, knows that I'm not a runner, yet alone a sprinter, so I knew that I was not going to come very high in the results. But it was a lovely event; very sociable sitting out on the lawn in front of the main Students' Union building and being able to watch all the competitors as they sprinted in along the funnel of buildings towards the finish control.
The Start was on the lawn in front of Singleton Abbey and in fact the start kite was on a stone feature in the grounds of the Abbey itself (now an administration centre for the uni). You had to really pay attention to the control descriptions at times to check which side/corner of a building the kite was on and there were some intricate routes through the complex of campus buildings. On the north side of the campus there was an uncrossable fence, the other side of which was Singleton Park, and in which there were only a few crossing places. My control 6 was cleverly placed so that you had to make a decision on which of 2 crossing places to go for, as they were almost equidistant. In urbans/sprints you just have to make a quick decision and go for it, even if you start to have doubts about it. I used to walk through the park after lectures to go to my halls of residence – Neuadd Beck (Beck Hall), in Uplands. It's now a Dental Surgery! There were a few tricky twists and turns before the end and then, as the last control was in sight of the spectating competitors at the finish, I put in a burst of speed to the finish control. Well, I say 'speed', but it was just a slightly faster pace than my usual plod! But the photo that Tina took made it look as if I was making an effort – so that's all that counts!"
 Tina says:
"Twice in two days, in two different hotels, in two different parts of Wales whilst chatting to other orienteers from different parts of the country, on discussing which clubs we were with, on mentioning Wessex both replied "LYRA'S CLUB" both knew of her through, due to her success and because their youngsters had been on junior squad training with her.
It is becoming quiet obvious to me that I am better at urban Orienteering as its seems to suit me better, I must learn though never to think this is going well as you can guarantee it then goes pear shaped, on day 1 the Urban sprint on my 15th control out of 17, no no no I went to the wrong tree and then ran the wrong way from it, before realising my error after a bit of a hunt. Number 16 was the otherside of a number of uncrossable walls, I couldn't quickly work out how to get to it, got there in the end. Other than that I was reasonably happy with my run."
There were "championship" performances for Gavin coming 3rd on M65, me (!) 12th on M45, Andrew 1st on M90 and Lyra 1st on W16. Julie got a silver on W65 in 26th, Tina a Bronze in 57th, with Michael (Bronze, 82nd) and Scott (87th) frankly asking for trouble running against the Best in Britain on M21E.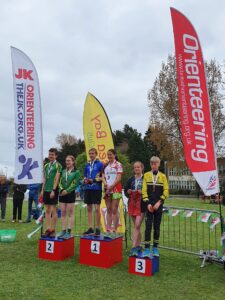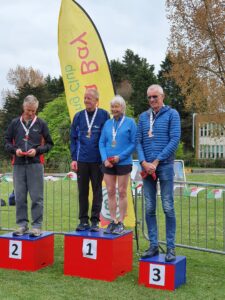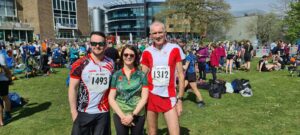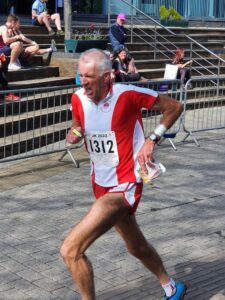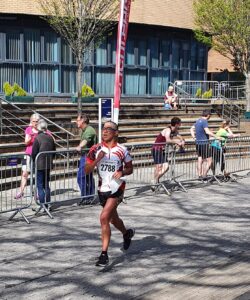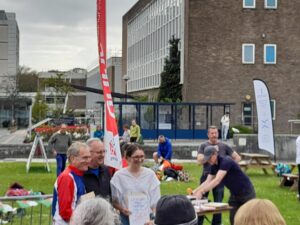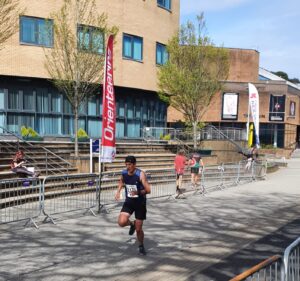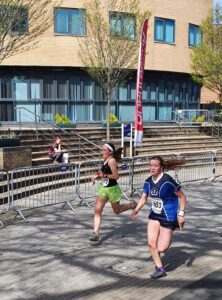 JK Day Two: Clydach Terrace
On to Day 2, and we were into our first exposure of post ex-industrial workings, with complex topography high above the Heads of the Valley road on the edge of the Brecon Beacons. It's easy to be sniffy about a day in post-industrial slag heaps, but now that they have grassed over and nature has returned, these make for a fascinating landscape of niches, spurs and re-entrants, and almost impossible to relocate once lost. I totally ruined a good run by wasting 6 minutes running around doubting myself, with only 3 controls to go….
Tina on the other hand must have found it easier:
"Days two's objective was simple, no howlers and don't come last and secondly realising that Gavin was on the same course as me but starting an hour and 20minutes later, get round and finish before he starts it. Which I did, yay."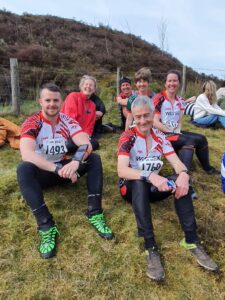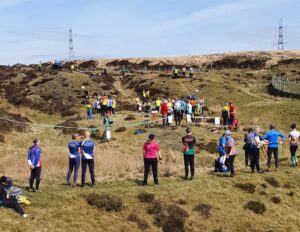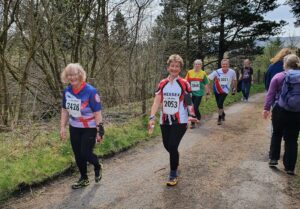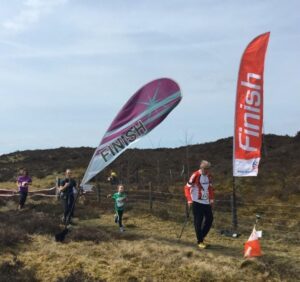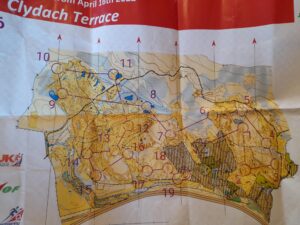 There were championship performances (again) for Gavin (2nd on M65L), 11 seconds behind the winner, and Lyra (1st on W16A). Silver awards went to Esk (11th on W14A), Nic (24th on W55L), Julie (19th on W65L), Rob (42nd on M60L) and Jon (27th on M55L), with Bronzes for Jolyon (26th on M45L), Tina (39th on W50L) and Liz (3rd on W60S).
The end of Day 2 and it was the much awaited WSX dinner, that Jon and Rebecca had "(dis-)organised" in Crickhowell. It was so memorable that Tracy (who wasn't even there) noted that:
"the Wessex what's app group kept me updated and the meal out saga was very amusing!"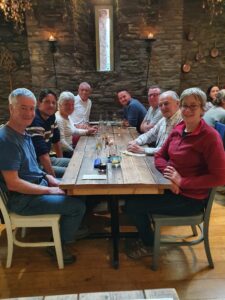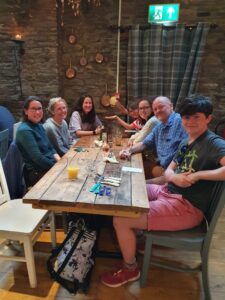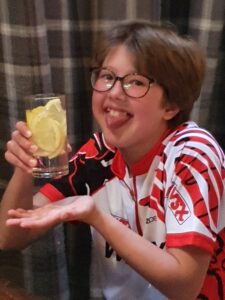 JK Day Three: Pwll Du
The sun shone again, and again we headed for a post-industrial slag heap in the UNESCO Blaenavon landscape. If you were to design an open orienteering area, with lots of topography, this is what you would create, with a few volcano like features thrown in the for good measure. This was a tough day at the office, as long events should be. The assembly area was very festival-like and it was great watching (most) people navigating the precipice slag heaps (and generally fall over…).
I don't remember it being very wet but Julie did her best to find some water….
"Bog Snorkelling – I feel I had to mention this as it seemed to cause much hilarity amongst my fellow WSX team. It happened on Day 3 of the JKs at the Pwll Du event. It was another gloriously sunny day and the assembly field had great views of competitors on the hills and opposite – the hills mainly being old slag heaps from the coal and limestone surface mines. For those who cannot read contours very well, this was not the place for you! Incredibly complex and therefore very technical orienteering. 
I was actually not doing too badly in terms of navigation, just slow going over the tricky terrain. My control 9 was at the head of a marsh area with a steepish slope up behind the control. I'd approached the control alongside the marsh and could see, as I got nearer, that it was understandably muddy and wet right in front of the kite where other competitors had approached to dib. So I duly stepped near the control with my arm outstretched to swipe my SIAC dibber – only to find that my left leg went down about 3 feet up to the top of my thigh in very sloppy, orange mud! Not only my leg but my left arm and hand – in which I was holding my map and compass! In trying to get out I also managed to get my right hand and dibber under the mud as well. None of the map was visible so I spent a short while trying to wipe the mud off as best I could, as well as clean my compass and dibber so that they were usable. I must have looked quite a state! As I was clambering up the heather-covered slope I then had a horrible thought that my SIAC hadn't actually registered – but I wasn't going back down again as I was so tired. I managed to get enough of the map clean to see my way to the last 3 controls and as I trotted into the finish there were a few gasps from my team mates as they saw this orange-coloured person passing them! But I was relieved to find that my dibber HAD been registered so it wasn't all in vain."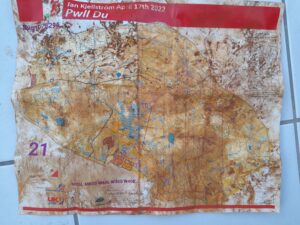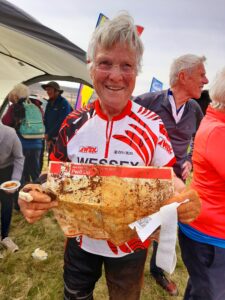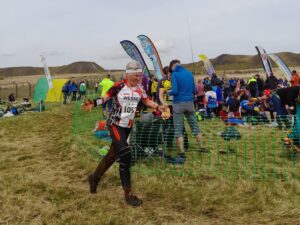 One of the highlights of the weekend was seeing Andrew B again, coming over from France for the JK. Andrew joined Poole OC (WSX predecessor) in 1970, so this wasn't his 1st JK. However, we still felt obliged to ensure our 93 year old member got home safely. Liz takes up the story, as well as a reflection on "passing on the baton" for the love of orienteering:
"Having run my course and returned to the club tent I was surprised to find I was back before most others.  I particularly wanted to see my young protege, Scott (M21), run in to the finish, so I waited, and watched….
However, what I did see was Andrew Beldowski (M90) slowly descending a steep spoil heap.  I watched as he skirted along the bottom of it and then stopped for a minute looking closely at his map.  I know Andrew very well & could tell all was not well.  Then, to my surprise he started UP the next steep spoil heap!  He started in a fairly upright pose, but soon adopted the 'downward dog' position crawling precariously on all fours.  It was becoming more difficult the further up Andrew clambered; other members of Wessex had now returned to the club tent and all eyes were focused on our oldest club member!
It was when Andrew stumbled that Jolyon decided it was time for some intervention.  As he climbed up to Andrew his map blew away!  Once this was retrieved, we watched as they sat together for a few minutes chatting, and then it was clear that Jolyon was sent packing!   So, down came our chairman and on went Andrew to locate his penultimate control. 
Some time later, with the official First Aiders now waiting at the last control, Andrew emerged.  He walked past them and casually along the taped route to the finish waving, smiling at the cameras and joking to all the cheering on lookers!
Now, tell me, how many of us will still be doing this sport at 92?  Will we be as determined NOT to give up when we slow down and can't run anymore, when many loved ones have left us, when our health is challenged and our age group shows we're the last one standing?
Although I had to wait a fair while, I did see Scott finish – but he wasn't running, he was limping.  Unfortunately he'd had strained his leg but had stoically completed his M21 course in 2hrs 40mins 19sec. 
33 years ago Andrew introduced me to Orienteering and mentored me;  I have tried to do the same for Scott, and I think its fair to say that now there's not much more I can teach him!  I like to call this arrangement "Passing the Love On" and I hope one day Scott will bring someone into Wessex  in the just the same way….."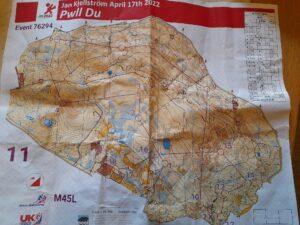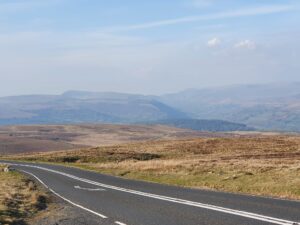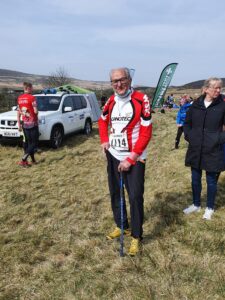 Championships again for Gavin (11th on M65) and Lyra (2nd on W16), Gold for Esk (12th on W14) and Silvers for Jolyon (17th on M45L), Jon (24th on M55L), Rob (46th on M60L), Liz (5th on W60S), Julie (20th on W65L), and Bronze for Nic (46th on W55L), Rebecca (31st on W45L). Scott, who had never orienteered before the autumn, did brilliantly completing the M21S, despite rolling his ankle. A great effort for a relative newcomer, well done Scott!  
Days 2 and 3 are added together to reward the JK trophies:
M21S Scott 17th
M45L Jolyon 19th
M55L Jon 24th
M60L Rob 43rd
M65L Gavin 4th
W14A Esk 9th
W16A Lyra 2nd
W45L Rebecca 26th
W55L Nic 38th
W60S Liz 3rd
W65L Julie 18th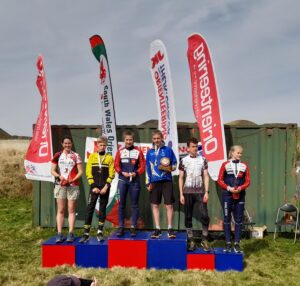 JK Day Four: Caerwent
Exhausted yet by reading this WSX Chat (?), so were we after Day 3, but Day 4 was relay time. As a small club it is not easy to create age-graded team with only WSX members (more on that story later), but we did form 2 ad-hoc sides, plus a M165+ (the old gits class) and W165+ (strong powerful warriors class). Gavin takes up the story of his relay:
"As the song goes "Didn't we have a lovely time the day we went to Caerwent". Well what do you expect, geographical accuracy? Well it might not be Bangor but it is in Wales. I know some don't like relays and the 'pressures' they can bring, but trust me, the JK relays was a great social occasion, great fun and a bit of orienteering to go with it. We had a number of teams entered and I think everyone thoroughly enjoyed themselves, wherever they came in the results. As Nikki Brooke put it "I'd almost forgotten how much fun orienteering can be".My team was in the +165 and consisted of Jon, me and Jolyon. The top +165 teams are seriously good with the likes of Martin Ward, Charlie Adams, Tim Tett, Quentin Harding, Richard Barrett etc etc. So just for 'fun' I spent a couple of hours one evening estimating how we might do 'at best'. Being the considerate person I am, I shared this with my teammates and all and sundry – so absolutely no pressure there 🤣. At best Jon was down to finish the first leg in 12th place, me to bring the team up four places to 8th and Jolyon to bring us up a further two places to finish in 6th. That is of course 'at best'. To be fair Jon was only 60 seconds off 12th place, so good job. I had a scrappy run, particularly in the wooded bit, but did recognise a couple of teams as I passed them. Probably more by other teams going backwards, but I managed to pull the team up to 7th. Jolyon shot off, had a great run and brought us back in 5th place. Even better than our 'at best'. A great result to go with the fun."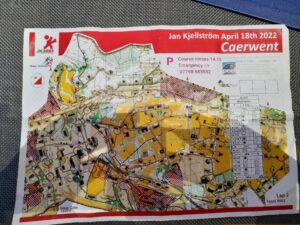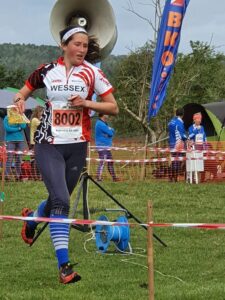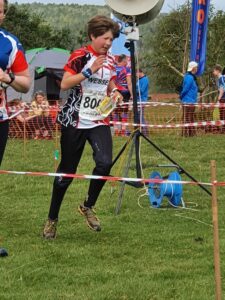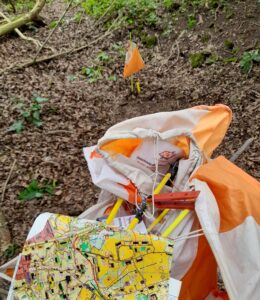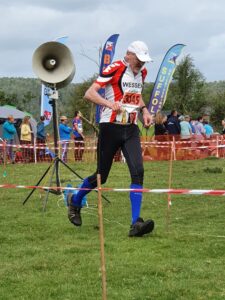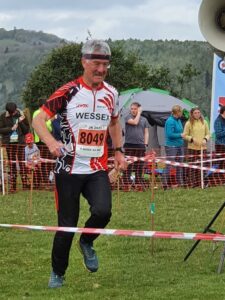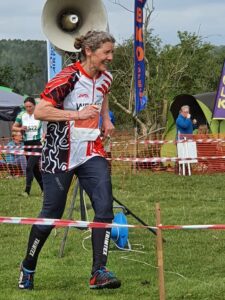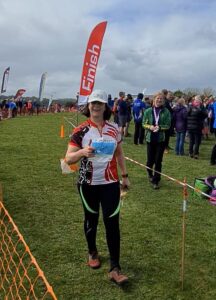 M165+ Gavin, Jon, Jolyon 5th/41
W165+ Nic, Julie, Tina (would have been) 13th/16
Ad hoc Lyra, Esk, Agnes 8th/48 (brilliant results from our young female juniors!) 
Ad hoc Rob, Scott, Michael 25th/48
Final words
Tina – The weekend was thoroughly enjoyable, great to be able to have some normality back with great company of Wessex team members and a lovely couple of group meals.
Scott – When I signed up I didn't really know what I was signing up to, and ended up entering elite courses for all events. When I got to know the courses I managed to change to shorter distances. Was a great experience doing all the courses for the event and nice to meet other members and have more of a social event.
Nic – A fabulous weekend that reminded me why I love orienteering and particularly these bigger events when you get to share the joy with others.  Highlights? A flukily  accurate run on Saturday (where every control was amazingly pretty much where I thought it was going to be 😯),  a bit of river swimming and then the weird but wonderful post-industrial landscape on Sunday. Lowlight – not checking my map carefully enough in the relay (doh!) so missed a control AND and tried to hack through dense bramble before having to give up and retrace my steps.  Huge apologies to my team mates. But overall,  came home inspired to do more events this year.
Andrew – We are all exhausted from our efforts over 3 or 4 days!  I am just about recovered thanks to liberal quantities of red wine! I have enjoyed this occasion better than many others:  Superb terrain, excellent facilities and the benefit of being reunited with so many WSX members but also so many others! Also, being also a helper gave me the opportunity to contribute to the enjoyment of others!