We start our missive this week with some wise words from Gavin, after a day orienteering and helping at a British Army event:
"Some of us are very lucky to be able to get to the BAOC events held most Wednesdays, normally somewhere around Aldershot. Most areas are good quality, well planned and well attended (usually circa 300). 99 runners on the Blue this week for instance. These events are a great opportunity to practice techniques, try new things or just enjoy yourself. Today for instance, I had my minute man in sight at leg 6 (Mike M) and on leg 6-7 (for those that can see the map on WhatsApp) there was a definite over or around choice. I originally had planned to go around but as Mike did that I changed plan and went over. Unfortunately the paths weren't very clear on top of the hill and I drifted off, otherwise it would have been an excellent practical test of which was better. Mike was by far the faster runner, but after I passed him he then overtook me four times – one of the great pleasures of good route choice and good navigation.  Each week a plea goes out for volunteers to help with car parking, start, control collecting. I occasionally volunteer and today was control collecting. I had had my run and changed so after Colin gave me my map with three controls to collect I set off walking into the forest. The sun was shining, no one else around and it was a privilege to be wandering through the area. You couldn't stop me smiling. One control I needed to collect was on a ditch junction on a hillside in a technical, detailed area. I don't take my compass with me when control collecting, just use the map. I wandered towards where I thought the flag should be and there it was. I ruminated that when I'm walking my navigation is perfect. Why when I'm running does it get a bit shaky at times? I discussed this with Colin D (one of the best orienteers and coaches in the country) when I got back. We concluded that when we do make mistakes it's because we haven't looked at the map enough. I certainly find there are times when competing I have to force myself to have one more look at the map. It's all too easy to think you know where you're going when just another glance will show you that shallow reentrant just before the control that is the key to you nailing it. Any chance you get, particularly along forest roads or tracks, plan ahead then plan ahead again. "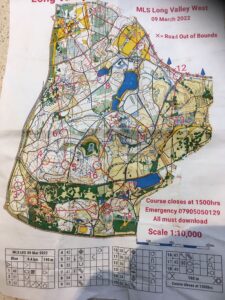 I think Thierry Gueorgiou (best male orienteer ever?) used to check his map every 8 seconds. I've tried it and it requires some practice, particularly when it takes me a few seconds for my eyes to focus and be able to read the map!
This weekend just gone was the British Middle distance championships in Northamptonshire and Bedfordshire. Saturday was a warm up event at Salcey Forest, an ancient hunting forest adjacent to the M1. All the woodland compartments are dominated by a vast ditch network, meaning counting ditches and taking careful bearings key requirements, a unique challenge (although I think Alice holt is similar). On to Sunday for the British middles at Rushmere, a country park in the hills north of Leighton Buzzard. These greensand hills are moderately contoured, with areas of runnable woodland, heathland and bracken, making for a very pleasant terrain if not as technical as last year's championship at Summerhouse Knott in the Lakes. Only a small number of WSX were in attendance, with Lyra having the best result, winning Gold in her first year as W16.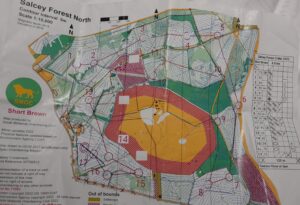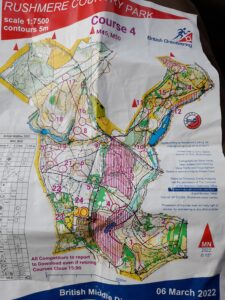 The next big events are the British Long champs at the end of March and the JK in South Wales at Easter. Closer to home, there is the SARUM Saunter at Fonthill on 20th March, and WIM's urban event at Poundbury on 9th April.