According to the meteorological calendar, today is the first day of spring. It's great to see the snowdrops and hellebores being joined by the first daffodils of the season. Orienteering is a great sport for keeping your spirits up during the winter, and each year we test ourselves against the elements with cold, wind, rain and lots of mud.
Compass Sport Trophy heat
This pretty much summed up the Compass Sport Trophy heat which took place at Ramscombe on 13th February. WSX had a strong team and a great turn out , considering the event was over in the Quantock hills in Somerset. As you can see everyone was hiding from the elements: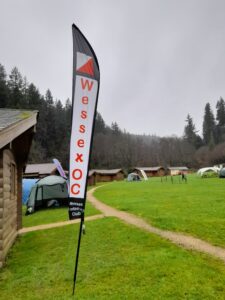 James (thanks!) superbly captained the team and I share his words that he circulated shortly after the event:
"Thank you to everyone who came along today. We had 22 runners braving the weather for WSX and the club finished in a respectable 3rd place behind SBOC and WIM. The good news is that we don't have to go to the final in Scotland. A special mention to Gavin, Ian, Lyra and Esk who all got 100 points, and Peter was narrowly beaten into 2nd by 12 seconds to get 99. I'd also like to give a commendation for perseverance to Scott Elford and Martin Miller who were both out for well over two hours but completed their courses, and a thank you to Julie and whoever else helped put up the tent to give us some shelter.For those of you interested in the mysterious ways the team scores are calculated, I've attached a team score sheet that provides more of a breakdown and explanation. For the full details, see section 5.2 of the official rules https://pgorienteering.uk/documents.html. It's not that difficult, honest!"
Here are the scores: WSX Team Scores 2022
On the day, we didn't quite have enough older or younger orienteers to beat WIM, but we did manage to beat our rivals at most of the categories we were able to compete at. This year Swansea Bay OC joined the SW fixture, and they have a strong squad including the sixth best female orienteer in the world. So, keep training, and perhaps next year SBOC will go somewhere else!
Urban events at Bridgwater and Oxford
Prior to the CSC there were two urban events at Bridgwater in Somerset on Gavin's map (yes he won!) and at Oxford. On the Medium course, Julie, Sheila and Ian joined Gavin, with Ian coming 7th and Julie winning the dual with Sheila by 35 seconds. I was up in Oxford with Lyra and Esk, along with Michael. Oxford University OC had opened seven of the colleges, which allowed privileged access to the quads and behind the ancient walls. It also meant that the trick was finding the way in. A tip for the future, there is only one way in to the colleges and its on the far side from where you approach. The girls were racing each other, and in a small field Lyra won, with Esk third. Michael ran the Men's open and got his money's worth with a long 8km (+60-80%) course. My course was well over 12km (mostly dodging tourists and some time waiting at kissing gates [no kisses though] to get through the bottle necks), with controls on the Radcliffe Camera and New Hall college (see photos). A great place to run and highly recommended.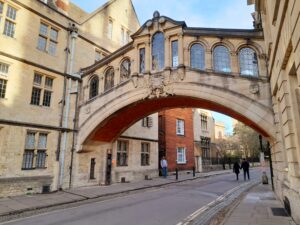 Agglestone
The following week was our annual South west league event, this year at Agglestone, basing ourselves back at Studland. Again it was a bit windy but largely stayed dry. There was a fantastic turn out of helpers from WSX including several members that didn't run, so a big thank you from everyone. Agglestone is a tough area, with several linear bogs to be aware of, and plenty of exhausting heather to sap our energy. It is one of our premier areas and I particularly enjoyed capturing the heath in the early morning, whilst placing controls: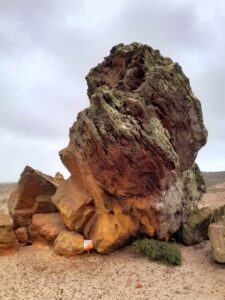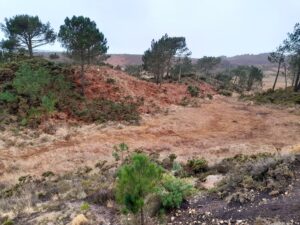 Huge thanks to Julie for making the day happen, to Liz for organising all the teams, Jon for planning, all the leaders and helpers, control hangers and collectors, as well as the download and results team for very rapid results. They seemed to enjoy their day on the beach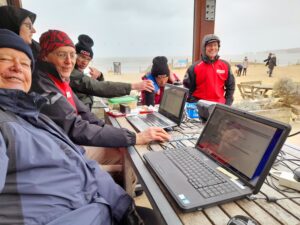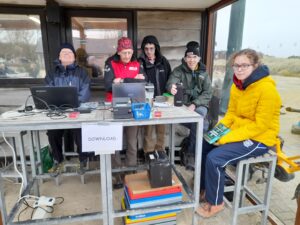 On to the results, Jon (the planner) and James (control hanger) both had good non-competitive runs on the brown, Jason was 3rd on blue, with Agnes well placed in 6th, Lyra won the green by 8 minutes, with Esk second on light green, and Alan 2nd on Orange.
Dartmoor and Peak District
This last weekend we had members down at DEVON's Hound Tor event, and up in the Peak District at SYO's Big 50th anniversary weekend. In Devon, Liz and Scott had great runs coming 7th and 9th on Green, and Julie on the podium in 3rd on Short Green. It was a fantastic day for them, navigating between the granite tors and around the medieval village. Later this year, Hound Tor and Haytor will be the venue for the Caddihoe weekend – not to be missed.
Meanwhile in Yorkshire, it was all millstone grit, steep woodland and tussocky moors. Prizes were celebration towels and we came away with 1st places on W16 Lyra and M45 Me, and a third on W14 Esk. Rebecca also had good runs, with a great result on day 1.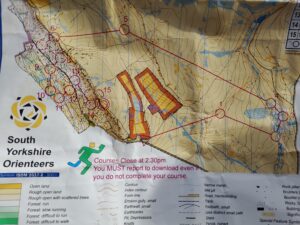 Night league
Finally…. there have been three night league events, at Southampton, Poole and Fordingbridge, bringing the league to its conclusion. As usual there were good runs for the usual suspects (James and Alan), but also great to see so many WSX members taking part in the league and enjoying the socials. These are fast paced events and they are a great way to spend a sociable and athletic evening, running through the empty streets of our towns and cities, trying to unpick the planner's best laid plans. At Poole and Fordingbridge there was a definite ploy to place high scoring controls to the west and south (respectively) making early planning crucial. In Southampton (for me) it was a distant control on the pier, which I must have had my thumb on all night, as I missed it. (Or Lyra was running too fast for me to check the map).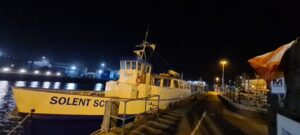 On to the awards, and there were podium places for Lyra (2nd) and Fern (3rd) on the Women's open, Alan (2nd) on the Men's open, and Julie (2nd) and Tina (3rd) on the Women's handicap. Excellent results all round. Dan Cope SARUM won the Men's open, Mike Frizzell BADO the Men's handicap; Jo Pickering WIM the women's open and Kirsty Staunton WIM the Women's handicap.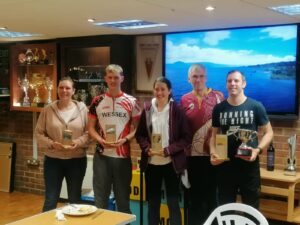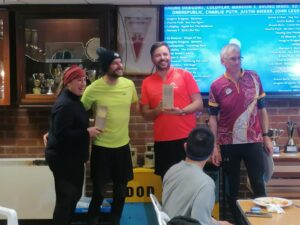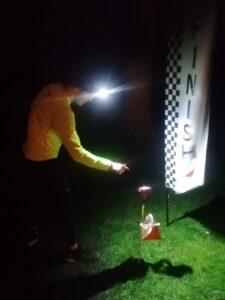 That's all from me this week (month?), it's the British Middle distance championships at Rushmere this weekend for a few of us. Soon we will have details of the Summer Series, and Jason's work on Find Your Way.
Lastly, Ian has started a monthly social at Bournemouth University (eating, drinking and optional running), starting on Tuesday 5th April. Hopefully see you all there, bring your friends and family.