January is always a long month, but it has been full of opportunities to orienteer. Below is a review of some of the recent events since the last missive, starting with Gavin who went up to the Edinburgh Big Weekend:
Edinburgh Big Weekend (Gavin Clegg)
Edinburgh is a really vibrant City and I thoroughly enjoy my visits. I would certainly recommend this weekend as an early season getaway. Surprisingly mild for the time of year and even a degree or two warmer than London. Italian restaurant one evening and as it was close to Burns Night I tried the Haggis Ravioli – surprisingly good! Facebook reminded me that 5 years ago I wrote I had "done well at the Edinburgh City Race but I was also doing dry January and hoped there wasn't a correlation". Having had another good Edinburgh weekend without having a dry January I'm delighted to say there isn't a correlation – whew!
The Edinburgh Big Weekend has been going for a number of years and is a great way to kick off the New Year. Three races: Fight With The Night on Friday being a night sprint around part of the Uni. Very very technical and with a double sided map and a couple of butterfly loops towards the end, had me thinking which way was which. Particularly as there were no loose descriptions so you kept losing your place on the map whilst you checked codes! A choice of Long or Short and as the Saturday City Race was the main event I chose the Short. Maps below. A couple of wobbles and hesitations but no great mistakes 9th out of 116 and 1st M65 😁.
Saturday was the main event, being the first race in the UK Urban League. Assembly was south of Edinburgh centre at The Meadows and there was a raw wind blowing across this public space. A 15 minute jog to the start was a welcome warmup. Amongst the buildings I was wearing shorts and didn't plan on wearing gloves or hat – a debatable decision whilst waiting to start but the correct one once up to speed. Although tricky in places, with different levels in places, I like Edinburgh and deliberately set off at speed intending to keep up a good tempo. A wrong route choice 4-5 cost me 15 seconds but I kept the pace up and felt strong throughout. A couple of long legs to get the distance in. Although I had the fastest splits for those two legs, they were eventually voided as later in the day the control got vandalised. Sorry but I just don't understand that mentality. Download and off to Starbucks keeping an eye on the live online results. A satisfying run, winning course 4. Happy Bunny. Good start to the league. Plus a £15 winners voucher. Result! Remind me to let the taxman know.
Sunday and the traditional run over Arthurs Seat. Quite technical in places. Some climb, but not excessive. 5 – 6 I thought the route was over Arthurs Seat itself but found a more contouring route that was faster. Route choice was the key. A 14 year old, who could certainly run, started 2 minutes behind me. He eventually beat me by 3 minutes, it's the technical descents that slow me down these days. However during the run he passed me four times! One of the great pleasures of Orienteering 🤣. Once he learns the art of navigation he'll be seriously good. Happy to come 6/110 on Green and 1st M65. 
On the flight back to London City Airport the pilot told us the flight time and expected ETA. An hour into the flight he came over the intercom saying we were going to be landing 10 minutes early as they had found a shortcut!!!! He'd make a good orienteer.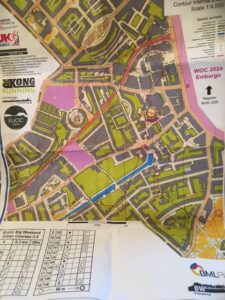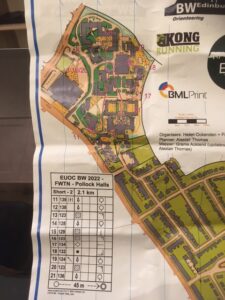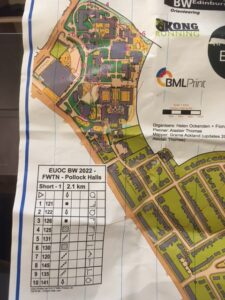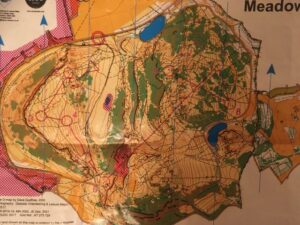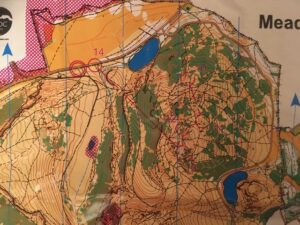 Night League updates
WNL 11 was at SARUM's Martin Down near Sixpenny Handley. One for the connoisseur, it is a chalk grassland area, dotted with gorse bushes and quite a lot of hill climbing. In the summer it is alive with the sound of skylark, studded with rare orchids and chalk flowers and home to a range of rare butterflies like Adonis Blue and Dark Green Fritillary. On a cold dark January night, other rare (and weird) beasts hunt the hillsides, with Alan, Jon and Rob all making the top 10!
WNL 12 was the much awaited WIM event at Alderholt. A small tightly packed community of cul-de-sacs and unpaved roads. It was an odds and even, meaning a double circuit with sequencing critical. Most people failed this, including me, and many were tempted to run off the physical map (but not the Maprun map) or activated the control from the wrong side of the wall. It was a great event but more than half my controls failed to activate, which I guess is a small price to pay for using Maprun, which is definitely a positive for our sport. There were many penalties bestowed upon most orienteers, but well done to Alan and Jason for top scoring in WSX
South West junior training
All our juniors are in the SW squad and a few weeks ago the young Medlock girls headed for training at Kenfig Burrows in South Wales. Below are some of the navigation training they did. Their next training event will be on Saturday at Studland dunes.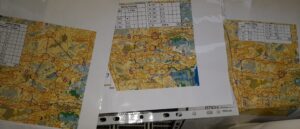 WIM Ocknell  
There was a large turn out on a sunny day in the lovely woods of Ocknell and heathland of Lucas Castle. It's hard to believe that during the war this area was squeezed in between an active airfield. We benefit to this day with ample parking and subtle topography and lines of gorse marking the lost remains of the runway and margins. To give you an idea, the image below shows how it looked in 1945: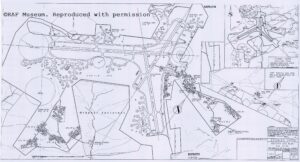 We had a good turn out with good runs for James on Brown, Roger on Blue, and Esk on Light green. Here are some photos of WSX members having fun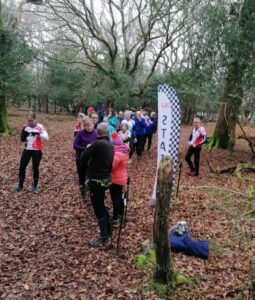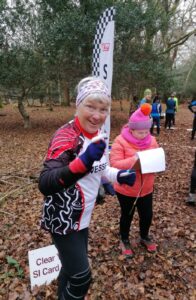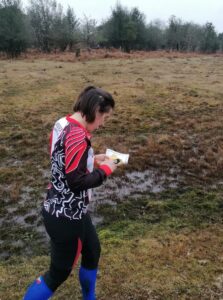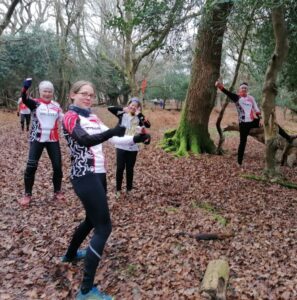 Next events
It's the BADO night league event at Whitchurch on 3rd Feb, followed by our Studland event on Saturday 5th, check out all the final details. Thanks to Roger for planning this at short notice. It should be great fun, on a new area, and allowing some socialising on the beach. We have 126 runners coming, and the map is hot off the press. 
Next week it is the SOC night league event in Southampton on 10th Feb, followed by the Compass Sport Cup in the Quantocks on 13th Feb. Our club captain James tells me that we have a strong team. We will have to do well to beat WIM and Swansea Bay orienteers, but we have runners on all courses. Thanks to Rebecca for agreeing to run up to try and beat Megan Carter Davies, GB's number 1 female orienteer. In the words of Yoda, Mind what you've learned, save you it can 
I know I haven't mentioned the Concorde Chase, but I am abroad and not caught up with everything.
Last word
You are all invited to join us at Committee Meetings if you wish. They happen every 2 months. The minutes to all meetings are on the member's area of the website along with dates of next meetings, but you do need to register on the website to read it. 
See you in the sun at Studland on Saturday.