I would like to first thank those who attended the AGM, it was lovely to see everyone for a social and catch up. Thanks to the committee for all their support over the last year and for agreeing to stay on for another year.
It has been a busy three weeks personally, with a weekend in Cleveland for the Junior Inter-regional championships, a weekend in Devon for the British Long distance championship and a weekend in Surrey for the Junior Home Internationals. This is payback for all those weekends during lockdown where we went nowhere and orienteering was cancelled.
Junior Inter-regional championships
Juniors from the 12 UK regions gathered together under the shadow of the Teesside Steel refinery near Redcar to spend two days fighting it out on the beautiful sand-dunes of South Gare and Coatham dunes, The weather was glorious. Three juniors from WSX took part: Agnes, Lyra and Esk (Arthur was ill sadly), joined by Rebecca, Nicki and myself. The first day was the individual event, with South west coming second behind Scotland, beating Yorkshire into third place by 1 point and Northwest into 4th. Lyra starred with a 1st in her W14 category.  The following day was the relay, with Southwest winning both the boys and girls relays (inc. Lyra), with SW finishing 3rd in the relays and 3rd overall for the weekend. Pete Maliphant, the SWJOS coach reported this their best result in 30 years.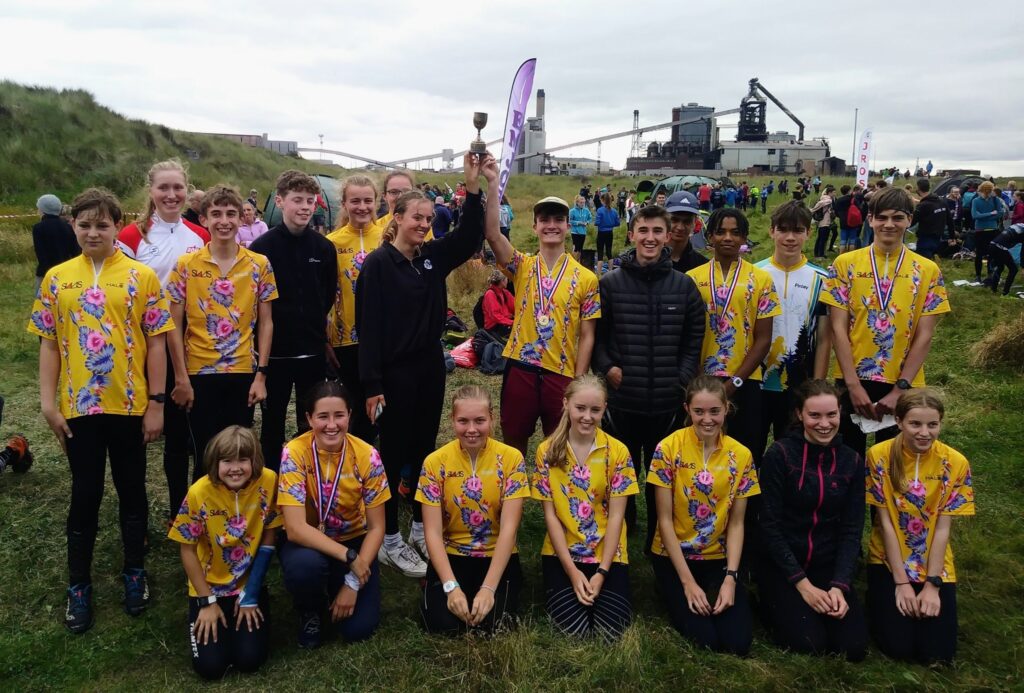 British Long distance championships
On to Braunton Burrows, the largest sand dune system in England, for a thorough soaking and technical challenge for the British Long. Clearly WSX members are expert navigators in sandy terrain, as we recorded some excellent results. Gavin came first in the M65 by 4 seconds, to add to his gold in the British Sprints. Lyra matched him in the W14 category and Esk got a silver in the W12. Some excellent results for Jon on M55, Rob on M60, Ian on M70 and Peter (good to see Peter back!) and Jolyon on M45, Agnes on W18E, Nicki on W55, Rebecca on W45 and Julie on W65. The evening was spent drying out over dinner, only to return for more sand and showers the next day, and equally good results from everyone. [Too wet and sandy to take photos]
Junior Home Internationals
Lyra was back at it again this weekend, competing in the W14 for England against the home nations, winning her age category and coming second in the relays with team-mates from Yorkshire and Derbyshire. The individual race took place at Hindhead and the Devil's Punchbowl, and the relays at Bramshott common, where there was also a spectator event. England were victorious over Scotland for the first time since 2017.
Islands Thorns
Closer to home, several WSX members enjoyed the sunshine of the New Forest, with SARUM's event at Islands Thorns, with a selection of colour and score events. Results are here
Night league
We move onto the night league, which starts next Monday at Hamworthy. Details are here. Please enter beforehand through the website. Details of all the subsequent night events can be found here