Swiss O week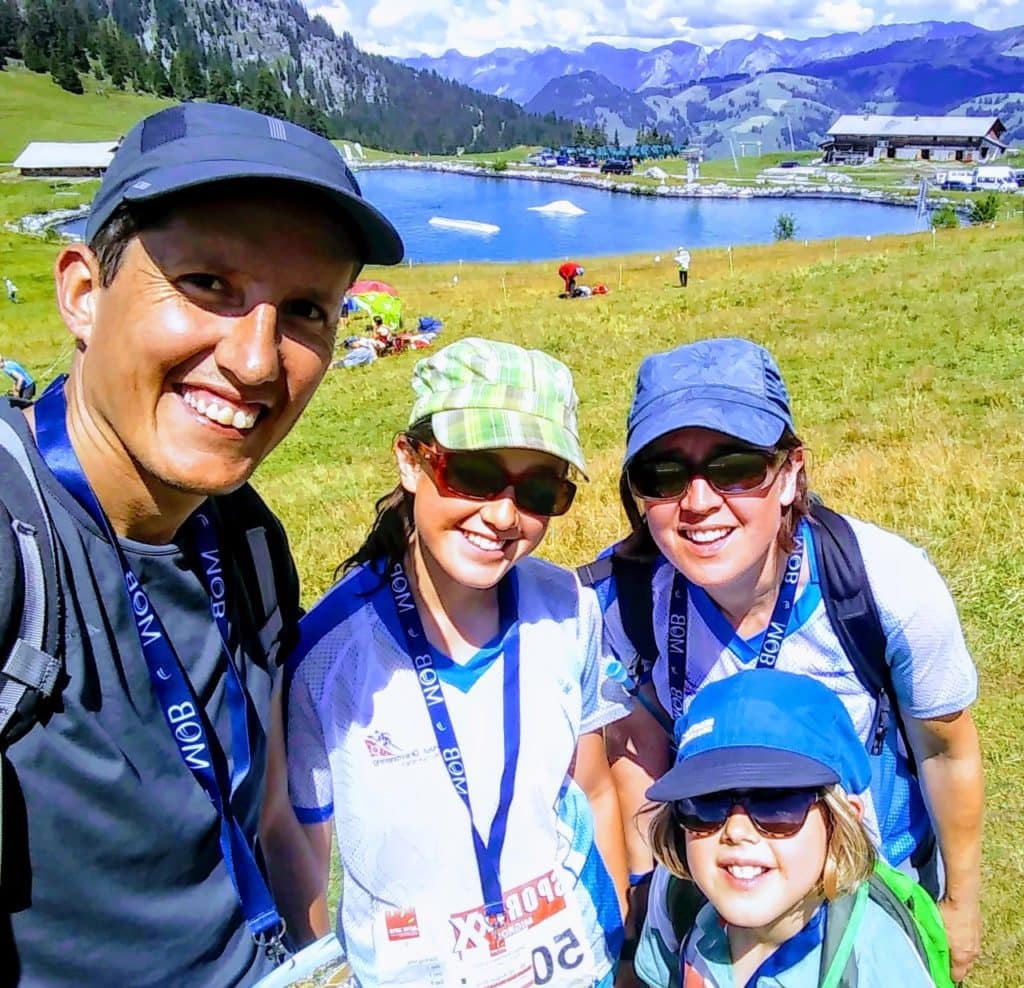 Alpine pastures, the sound of cow bells, Apollo butterflies dancing in between the pre-alpine glades, the rattle of the chairlift, and the distant whistle of a marmotte. Anyone who has spent a summer in the mountain paradise of the alps will be familiar with this. Combine all that with a big orienteering festival and you have the perfect European family holiday (for orienteers).
Having spent many years walking and climbing in the Alps, this year l realised that the Swiss O week was taking place in Gstaad, western Switzerland, during our planned holiday. It seemed like too great an opportunity to miss. Taking place so soon after the Scottish we figured we could only do the last 3 days to give our bodies time to recover.
The first three days had been a sprint, followed by a long and shortened long. Day 4 to 6 took place on the border of French and German speaking country, with a long, middle and shortened long event. Days 4 and 6 required taking a cable car and chairlift to the lofty starts, with much of the orienteering between 1500-1900 ms altitude through alpine pastures, pre-alp forest and alpine marshes. Day 5 required almost 300m climb over more than 2km to the start in hot sunshine. This middle distance through heavily contoured, bouldery steep wooded slopes proved the hardest navigational test.
Long distance – Hornburg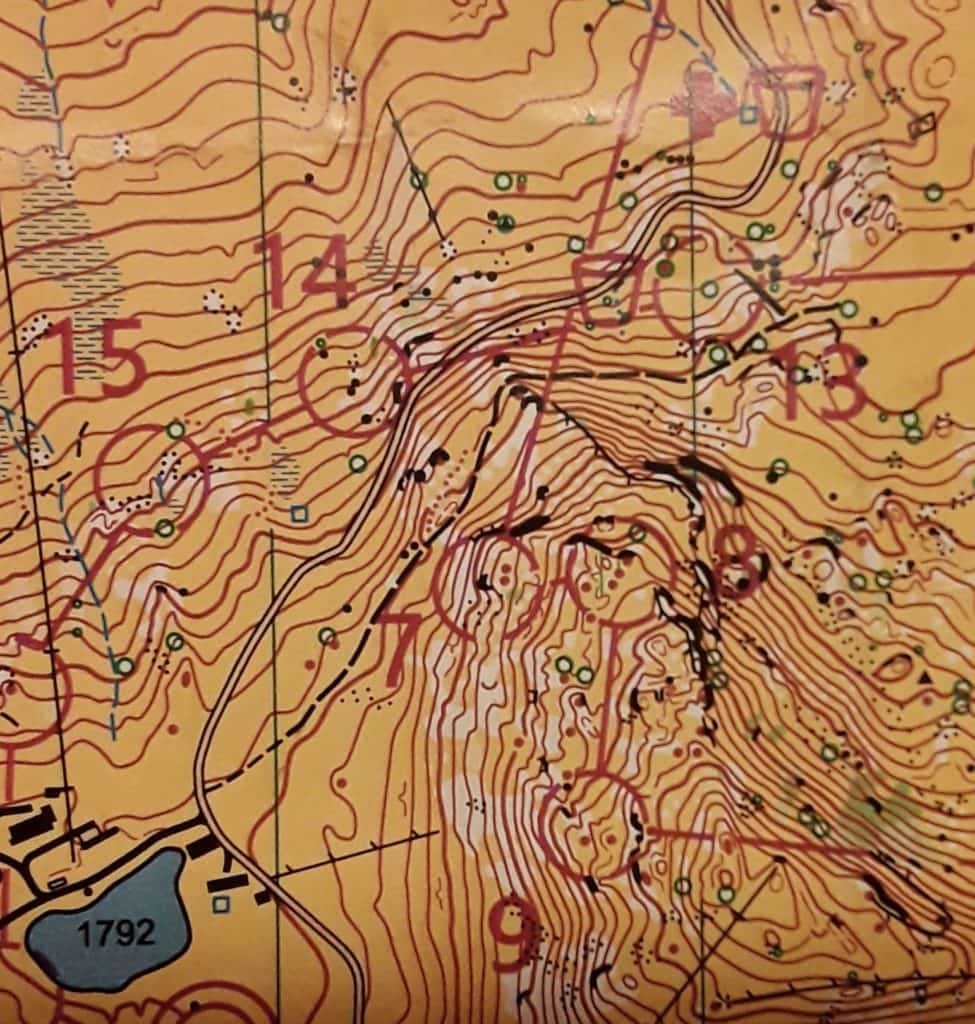 By the time we arrived at the event centre, we were a good 2 hours late for our start time. The sun was beating down and most runners were looking over cooked. My course had 350m of ascent and it was 80ms of climb to my first control. The high alpine pastures flanked three rocky peaks, where all the contour detail, knolls and huge boulders were. The rest of the course was running across pastures between the ski lifts, occasionally stopping at one of the 5 much needed drink stations. The previous day there had been a massive storm, but today the heat was sapping, and it was very tempting to sit and soak in the distant views of the Oberland. The boulders in the Alps are massive, some so big that they have knolls on top. Rebecca (on DAM) and I (on HAM) clocked times of 3 hours, as the organisers refused to take account of our late starts, nor would they change our Czech names from those whom we had replaced. The girls (Lyra on CM – technical medium, and Esk on HS – holiday short) had good runs, with Lyra finishing in 16th out of 100 of all ages. Esk's course was an orange and for all 3 days was more technical than the D12.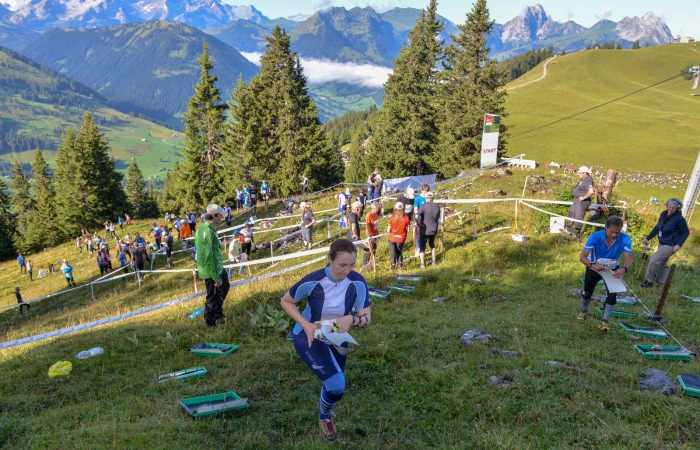 Photo from SOW website of start showing stunning panorama.
Middle distance – Rougemont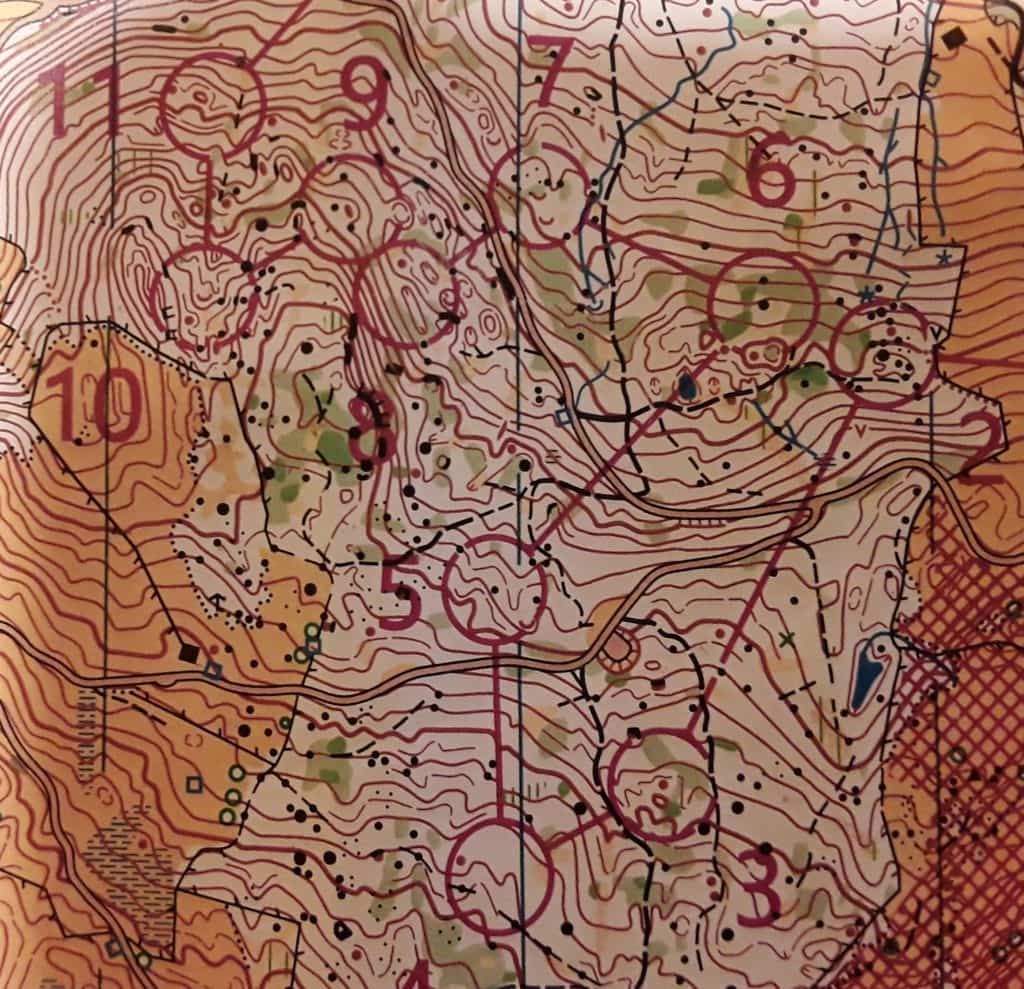 The middle distance was the most technical, with a forest slope of endless re-entrants, boulders and crags, with changes of direction up and down the slope. The going underfoot was tough, and even the muddy elephant tracks did little to assist with progress. Rebecca remarked that the wild raspberries were very tasty, and were a frequent delight as she pondered her next move. This landscape demanded excellent technical navigation, and with accurate and excellent mapping, the intricately feature-heavy woodland meant for careful navigation. Unlike most events we go to in the UK, there was no event parking, and we had to park some way down the valley and take a Swiss train through the idyllic picture postcard landscape. In fact the whole week was geared towards public transport with free passes for the trains and cable cars.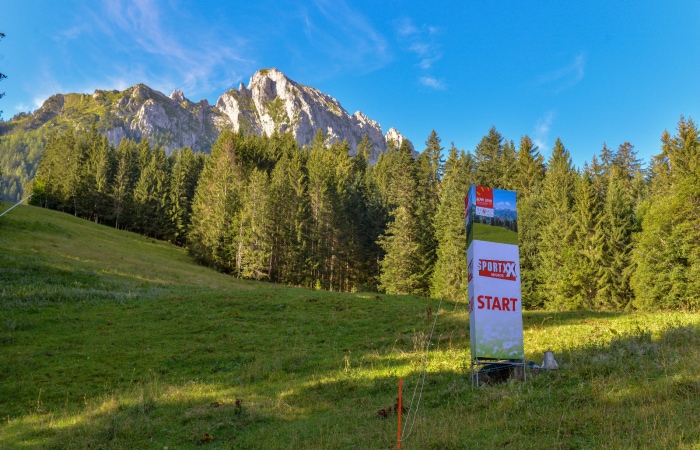 Photo from SOW website of start at Rougemont
Shortened long – Eggli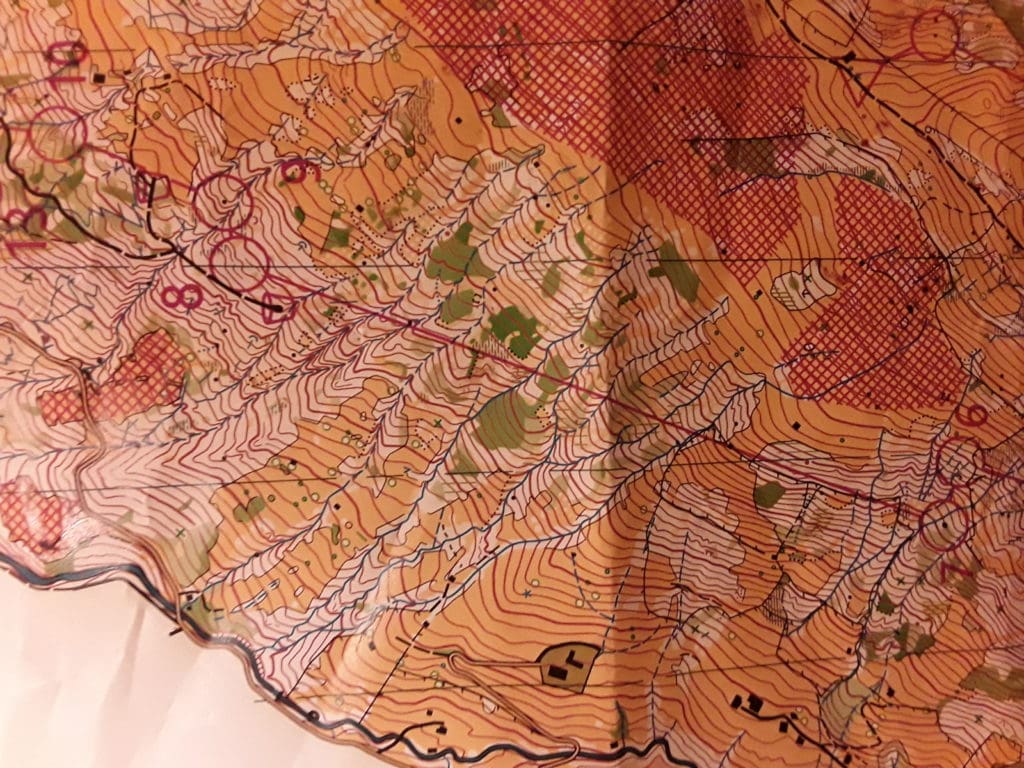 By the time we arrived at our start for Eggli we had cleaned and packed up our accommodation, driven for 1 h 40, walked 2km and taken a chairlift and still arrived for our late start in good time. The final day started with a traverse of an open hillside at 1700m, searching for controls between the pre-alp forest, before descending into a steep sloped pine forest, riven with endless deep ravines, heavily trodden slippery slopes; hunting flags in densely vegetated re-entrants and behind moss and tree covered boulders. The long legs of more than 2km angled across the forested slopes among the patchwork of glades called for careful map contact, ticking off the ravines, necessitating accurate assessment of height loss and gain; it was fantastic orienteering. At one stage I managed to snag my hand badly on barbed wire, causing heavy bleeding. To avoid losing all map detail I managed to locate a large patch of sphagnum which not only absorbed the blood but immediately stopped the bleeding. A remedy worthy of Bear Grylls. The run in by the end was a quagmire, and we were all caught on camera making an hilarious drunken mess of our sprint finish.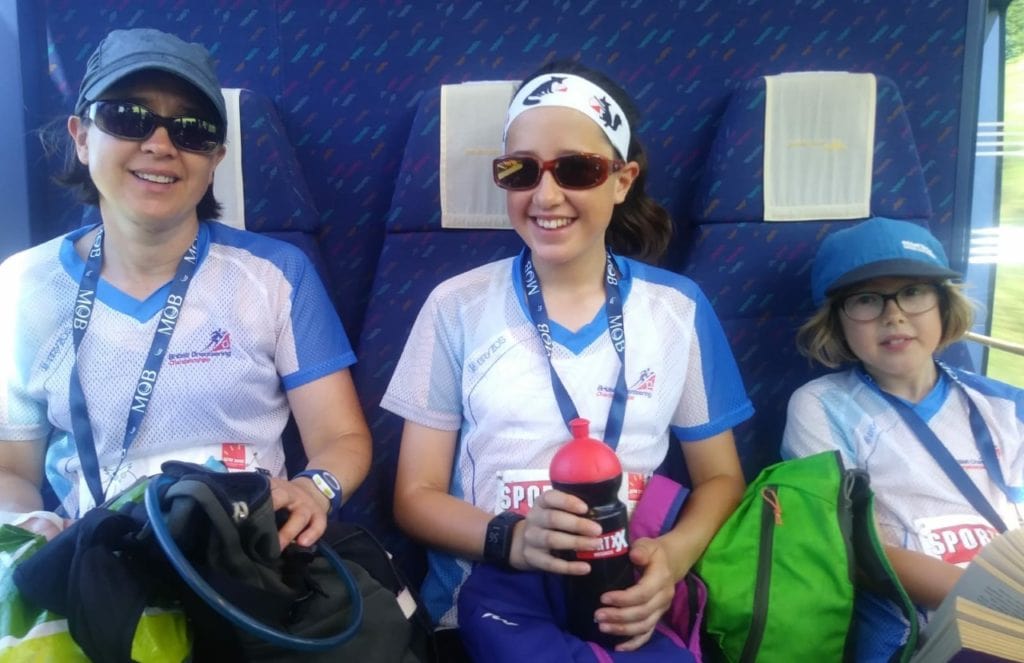 Final reflection
The alps are stunning, Switzerland is a picture postcard and the festival was a tremendous experience for all of us. I put Esk on courses far too hard for her at the start but she revelled in the puzzle and by the end was navigating solely off path and using vegetation. The rest of us ran challenging courses, well worth the expensive entry fee. After six excellent days in Scotland, this additional three day festival was somewhat indulgent, but seeing the girls run with freedom and independence, and sharing their stories of adventure made it thoroughly worthwhile.
Below – the finish at Eggli (from SOW website)