The latest of the Wessex Region Summer Series took place at the Royal Victoria Country Park, Netley on Saturday – organised by SOC. Dale Paget won the main Score event – nearly 3 minutes ahead of 2nd place. Another excellent result – he's clearly going for an overall win in the Series!
On Sunday, two of our members  – John Cook and Peter Suba – took part in a marathon and half-marathon, respectively. John achieved a very creditable 3hrs 31 mins in the London Marathon – particularly considering the heat. And Peter did the ABP Southampton Half Marathon in 1hr 33 secs. – another great achievement. Well done to both of them.
Don't forget our WSX/WIM Presentation Event on April 28th – and contact Chris Branford if you're going.
As organiser of the Poole Out-of-Town Race on June 3rd, I'd like to know if you're available to help in any way. There shouldn't be a huge amount to do, but any assistance would be appreciated – so if you could let me know, that would be great.
We're planning to hold a couple of social events in the coming months – the first being a ten-pin bowling evening on June 1st at the Wessex Bowl, Westbourne. And on July 20th, I'm planning an informal event and BBQ at Knoll Beach, Studland. More details will be forthcoming, but put the dates in your diary now!
Finally, a suggestion has been made about getting a Wessex polo-shirt, or possibly a fleece. I've acquired a sample black polo-shirt with embroidered club logo: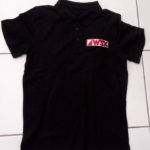 This would cost £6.50 (£5 juniors) – and we could have it in red, if that was preferable. If you could let me know if you were interested, then I can get some idea if this is viable.