I must start by giving the great news that Lyra Medlock won a Silver Medal in the W10 class at the recent British Orienteering Championships in the Lake District. This follows on from the silver she won at the JKs – a real rising star! We're so proud of her – and here she is…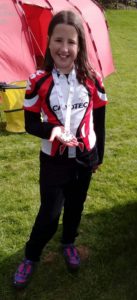 Not much else to report this week, other than to ask you all to reply to my recent email about helping at the Poole Town Race on June 18th (if you haven't already done so).
Also, please think about entering the SW Sprint Championships in Blandford on Sunday, May 21st. If only to ensure that, as Controller, I have an event to control! It is in danger of being cancelled – although numbers are now picking up. And as the numbers are quite low, there's an even greater chance of you becoming a SW Sprint Champ!! There are some lovely courses around Stour Meadow and Blandford St Mary which I'm sure you'll enjoy. Full details on the Wimborne website – entries, as usual, on fabian4.
This coming weekend, a few club members will be going over to the Chichester Urban on Saturday, and Rewell Woods near Arundel on the Sunday – optimistically called the 'Sunny West Sussex Orienteering Weekend' – let's hope their right!