Well, we had a delightful afternoon on Saturday at the WIM/WSX Presentation Social. For my full report, click here.
In that report, I forgot to mention that two other members received trophies from Wimborne: Dale Paget for winning the 2016 Summer League and Roger Crickmore on behalf of Wessex Raiders for winning the Furrow Hoppers Relay.
Here's a photo of all the WSX Winners: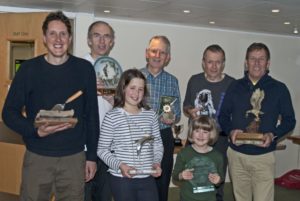 Peter Suba was unfortunately absent as he was running in the British Night Championships. He came a creditable 8th on M40 on what was clearly a tough event. Hopefully, he'll be putting a Post on the website soon about his experience up there.
Talking of Posts and the new website….we'd really like as many of you as possible to contribute, whether it be a report after an event you've been to, or even some other running/walking/outdoor activity you've done. It all helps to make members get to know each other better.
Upcoming Events
There's a trio of events coming up, starting with the penultimate Night League event at Lyndhurst organised by SOC on Saturday. Details here. On the following day, some of us will be going to the Sarum Saunter at Fonthill (entries now closed, but some EOD available) and on Monday Eric Whapples is organising the final Night League event of 2016/17 at Broadstone.
The following Sunday (March 12th) is the BIG DAY – the Compass Sport Trophy at Moors Valley. James has got everything under control and he'll be contacting people soon to let them know more details. It should be a great club event.